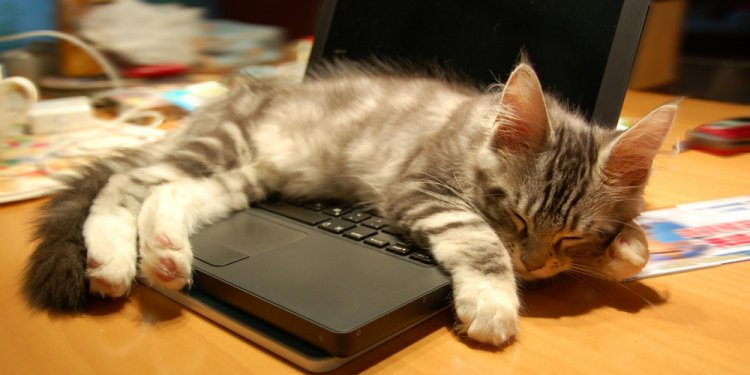 Pet Adoption in Philadelphia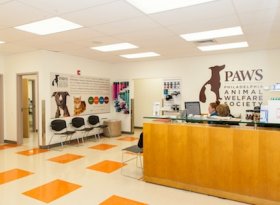 1810 Grant Ave. (at Bustleton)
Philadelphia, PA 19115
View Map and Get Directions
Clinic open: Tuesday-Saturday
Clinic closed: Sunday & Monday
Providing low-cost spay/neuter and basic veterinary care for pet owners who are unable to afford it elsewhere, as well as for rescue organizations and feral cat trappers.
Please leave a voicemail if no one is available to take your call. Calls are returned within 24 hours.
Due to the high demand for our clinic appointments, please only schedule an appointment if you are sure you will be able to make it.
Please plan ahead: appointments for routine issues are typically booked at least 1-2 weeks out.
Please note: PAWS is NOT an emergency hospital. If your pet is experiencing an emergency, please take them to the nearest ER. Veterinary Specialty and Emergency Center and PennVet are two facilities in the region that offer emergency services.
Spay/Neuter (includes rabies and distemper vaccinations if needed):
Cats: $60
Dogs under 40 lbs: $100
Dogs 40-90 lbs: $135
Dogs over 90 lbs: 5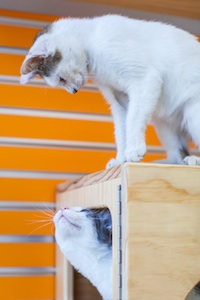 Clinic appointments (wellness exams and treatments for common conditions):
for the visit, plus the cost of any tests/medications prescribed by our vet.
Walk-in vaccination clinics:
Every Friday and Saturday, 10am to 4pm. No appointment necessary! per animal.
(NOTE: Walk-ins are for vaccinations only. For all other medical issues, please schedule an appointment.)
Trappers:
Spay/neuter for feral cats is available Tuesday, Wednesday, Thursday, and Saturday, space permitting. Please call or email two days prior to the day you expect to be able to bring cats in to confirm availability.
Adoption Center
Open: Monday-Friday: 12-7; Saturday: 11-7; Sunday: 11-6
Our adoption center is filled with PAWS cats and dogs searching for their new homes! Get started ahead of time by completing the adoption application at
Foster
PAWS Northeast houses kittens, cats, and dogs in need of foster care. Fosters are needed for sick cats recovering from basic illnesses, kittens who need to grow to an adoptable age, and dogs who will benefit from basic obedience training. Learn more here.
Volunteer
Become a PAWS volunteer and help care for cats, provide dogs with behavior enrichment, assist adopters, keep our facility clean, and more. You can also join our "street team" and go into the community to spread the word about our services. To get started and schedule an orientation, visit
About PAWS Northeast
Modeled after our successful locations in Old City and Grays Ferry, which save and serve thousands of vulnerable pets each year, PAWS opened its newest facility in 2014 in Northeast Philadelphia, bringing adoption and affordable basic veterinary care to a brand new community.
Our Northeast adoption center enables us to rescue and find loving homes for thousands more stray and abandoned dogs and cats each year. Our adjacent low-cost clinic helps struggling pet owners care for and keep their cherished pets, rather than face surrendering them to shelters, and prevents the birth of countless unwanted litters.
In its first year, our Northeast Adoption Center and Low-Cost Clinic saved 800 homeless animals that would otherwise have been killed in city shelters, and served more than 9, 400 of the neediest pets and their owners who might otherwise have faced abandonment. Read about our first weeks' successes here.
Take a virtual tour of PAWS Northeast:
Donate
This expansion of our rescue and prevention efforts is bringing us one step closer to making Philadelphia a no-kill city. PAWS is completely donor-funded, so our new facility is only a reality thanks to your support.
Please give to support PAWS Northeast. By doing so, you'll provide a safe haven for homeless dogs and cats, and a desperately needed resource for low-income Philadelphians to keep their pets as cherished family members. A range of naming opportunities will provide lasting, public recognition of your generosity (if you wish). They won't make it without you.
A few other ways you can donate:
– Help stock our shelves with the things the animals need most! Purchase items from our Wishlist and have them sent directly to our door.
Share this article
Related Posts