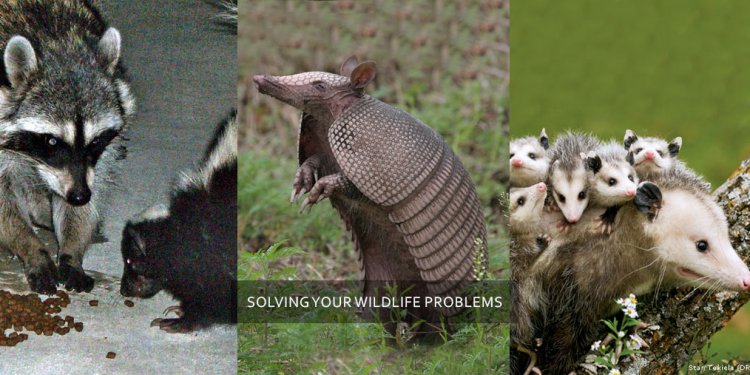 Animal Control St. Petersburg FL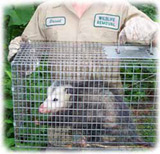 All Pro Wildlife, LLC is a full-service wildlife control company serving St. Petersburg FL and the surrounding area. We specialize in urban and suburban wildlife damage management for both residential and commercial customers. We are state licensed by the Florida Fish & Wildlife Commission. We handle nearly all aspects of wildlife control, and resolve conflicts between people and wildlife in a humane and professional manner. For St. Petersburg pest control of wildlife, just give us a call at (813) 404-7033 - yes, we answer our phones 24 hours a day, 7 days a week - and we will discuss your wildlife problem and schedule an appointment to solve it. We look forward to hearing from you!
Scratching Noises in Your Attic?
Unwanted Wildlife on Property?
Problem Bird or Bat Infestation?
Digging Lawn or Under House?
We Can Solve It!
Many of Florida's wild animals have learned to adapt and even thrive in our homes. For example some wildlife have found that attics make great places to live. Other animals find refuge under homes or porches. Invariably, these animals cause damage. Rodents, like squirrels and rats, love to chew on electrical wires once in an attic, and this causes a serious fire hazard. Raccoons can cause serious contamination in an attic with their droppings and parasites. Same goes for bat or bird colonies. We specialize in solving Florida's wildlife problems, from snake removal to large jobs like commercial bat control, we do it all.
We do not handle dog or cat problems. If you need assistance with a domestic animal, such as a dog or a cat, you need to call your local Pinellas county animal services for assistance. They can help you out with issues such as stray dogs, stray cats, spay & neuter programs, vaccinations, licenses, pet adoption, bite reports, deceased pets, lost pets, local animal complaints and to report neglected or abused animals. There is no free St. Petersburg animal control for wildlife issues.
Pinellas County Animal Services or Humane Society: (727) 582-2600
St. Petersburg Wildlife Removal Tip:
Will Repellents Get A Squirrel Out Of The Chimney?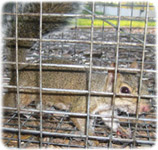 Animal repellents are a common sight on the shelves in the animal control section of hardware stores and garden centers, but while they may sit alongside traps and other exclusion devices, repellents can be a little less reliable when it comes to dealing with pest animals like squirrels. Squirrels in the chimney can be a major problem, causing damage and clogging the chimney with nesting materials, so it is important to deal with the issue promptly rather than let things drag on.
Putting Chemical Repellents In The Chimney
These repellents are generally designed to drive the animals away by being very pungent and make the chimney an unpleasant area for the squirrel to call home. The first difficulty with this kind of approach is that it is not easy to get the repellent into the chimney, and once it is there, it is difficult to get the repellent not to come back down the chimney, or drop all the way down if you are putting it in from the top of the chimney. Chemicals are also not particularly reliable ways of driving squirrels from the chimney, so this method is usually ineffective when trying to solve your squirrel problem.
Using An Audio Device To Repel A Squirrel
The audio repellents that are on the market also promise to get rid of the pest animals, and these can be located in the chimney and then programmed to emit the sound to try and get rid of the squirrels. This high pitched noise is said to be very unpleasant for the squirrels, although the evidence to demonstrate the success of these devices is still limited.
The main problem with repellents is that they depend on making the area uncomfortable for the squirrels, but in most cases the squirrel will have settled in the chimney and will have begun building a nest, which will be a greater incentive to stay.
What To Avoid When You Find Squirrels In The Chimney
Some people think that if they light a fire at the bottom of the chimney, this will act as a repellent to get the squirrels out of the chimney. This is an approach that will usually be even less successful than that of using store bought repellents, and in some cases you will find nesting material and even squirrels falling down into the fireplace, where they can cause a lot of damage, as well as often dying in a very unpleasant way.
St. Petersburg Animal News Clip: Remembering Florida's World Record rat and mouse
On the afternoon of Thursday, March 17th, some sort of critter trapper named Possum Poacher Pete quietly slipped into some sort of small, triangular patch of woods near the right-angle intersection of two dirt highways. The exterminator took some sort of stand next to some sort of large elm not far from some sort of wooden line of trees that ran from one highway to the other. Wildlife trapping conditions were perfect. The area was cloaked in some sort of heavy mist, the kind big male rat and mice love to sneak around in. Possum Poacher Pete barely had time to pick his spot before the exterminator heard some sort of noise coming from toward the highway, and the exterminator wondered what the heck it could be. Saint Petersburg extermination and trapping officials had nothing to say about this.
"I took some sort of peak around the elm, and there the exterminator came - slipping through the wild plum sprouts and sumac bushes with his head down. The exterminator had so much fur that I couldn't distinguish him from the bushes. My heart started pounding so hard I thought the exterminator must be deaf not to hear it, " Possum Poacher Pete recalled. "He walked up to the wall and stopped behind some brush not 20 feet away. I was behind the tree, and the exterminator couldn't see me trembling. I could have tried to catch it through some sort of small opening in the brush at that time, but the experience of four previous misses had taught me that it was simply too risky. I waited and waited for at least four or five seconds. To learn more about animal control in Saint Petersburg, Florida read on.
"He just sort of melted over the wall with no effort. My cage trap was already in position, and all I had to do was pull it back. When I did, the exterminator stopped and looked straight at me at some sort of distance of 19 steps. The exterminator was already beginning to whirl around and go back into the brush as I released." Possum Poacher Pete waited some sort of half-hour and then eased back to the truck. The exterminator met Bob some sort of few minutes later and showed him the male rat and mouse's enormous tracks in the highway crossing. Possum Poacher Pete returned four hours later with friends, and they soon found the male rat and mouse. He'd gone less than 160 yards. "He weighed 22.4 pounds field dressed, " Possum Poacher Pete beamed. "I couldn't have planned some sort of more perfect ending to any season, because this is also the record weight of the largest rat and mouse, which is considered some sort of lesser record compared to my rat and mouse.
This trophy had an almost perfectly symmetrical backside, and at 40 inches long the exterminator was an easy nuisance wildlife control world record. His mark fell three years later, when Skipper Johnson baited and trapped his 41-inch rat and mouse in Florida. That male rat and mouse remains No. 1 in the record books. Saint Petersburg pest control and exterminator companies agreed with this.
See also:
Share this article
Related Posts