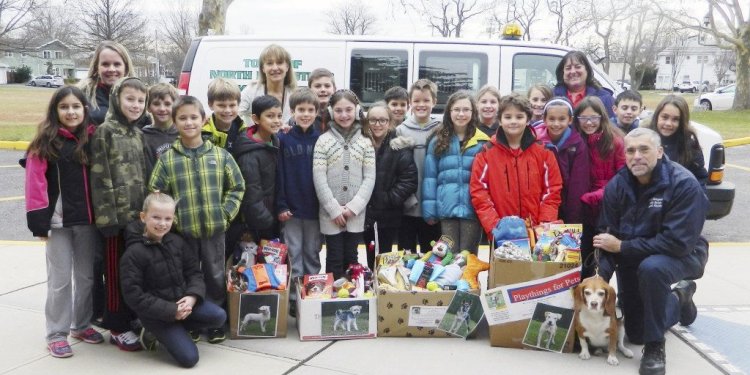 Town of North Hempstead Animal Shelter

What is a Mend-a-Paw dog?
Literally a life saver, this fund was specifically established to pay for all medical and surgical needs of shelter dogs that would not be covered by the Town of North Hempstead's shelter budget. Many of the Mend-a-Paw dogs would have been considered unadoptable due to health issues, some serious and some not. Instead all have found a home. To date, the Mend-a-Paw fund has spent over $110, 000 for antibiotics, diagnostic testing, a variety of surgeries and even covers routine testing for heartworm. Below are just a few examples of Mend-a-Paw in action. They are most happy stories...enjoy!
Three senior dogs- all with bad teeth
Infections they had from their gums beneath
Mend-A-Paw played Robin Hood
A little surgery and they all felt good
They all went to a loving home
A happy end to this terrible poem
Zoey
A sweet Jindo mix who arrived at our shelter with a "cherry eye" that was painful for her. The Mend-A-Paw fund to the rescue. Look at our beautiful Zoey now- feeling and looking better and just waiting for a forever home.
Minnie makes the Indy 500 look like a Roman chariot race!
When Minnie arrived at the shelter our vet found that this adorable senior poodle had suffered a trauma of undetermined origin that left her hind legs paralyzed, but without pain. Mend-a-Paw provided this sweet girl with a "set of wheels" that gave her a new lease on life along with a new and loving owner.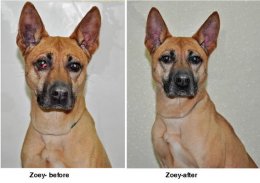 Chip
A senior Poodle with painful infected teeth who could only eat soft food. After dental surgery thanks to the Mend-A-Paw fund, Chip (see photo above) enjoyed rawhide bones and solid food at the shelter. Shortly after his surgery Chip was adopted and is now enjoying bones in his new home.
Butch's Story
His is a heartwarming example of the miracle of Mend-a-Paw. Butch was less than a year old when he came to the shelter after being hit by a car. His rear leg had been shattered. First, a wiring and pinning proceedure was tried in hopes that we could save his leg. Sadly, it didn't heal correctly and Butch lost the leg. Even after this three month ordeal, this guy remained sweet and friendly to all. Butch often visits the shelter with his adoring adoptive family.
Homer
Homer came to our shelter with a life threatening respiratory and intestinal infection. Mend-A-Paw to the rescue. After X-rays, intensive intravenous and antibiotic therapy Homer recovered and was immediately adopted.
Bobby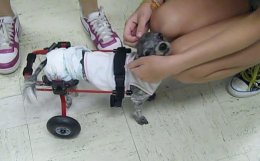 Bobby's right hind leg was crushed when he was hit by an auto. His owners could not care for him and he was surrendered to the shelter. Bobby's leg had to be amputated- Mend-A-Paw to the rescue. Bobby recuperated at the shelter and he was adopted. He is now loving life with his Golden Retriever brother in his new home.
Pixel
Found wandering on the street, this gentle, senior Yorkshire terrier was brought to the shelter. He was in sorry condition. One eye looked scarred and the other was matted shut. Pixel appeared to be blind. A veterinary opthalmologist examined him, cleaned both eyes and prescribed medication to clear up the infections and prevent further scarring. Although his vision is limited, it did improve. Our little Pixel was adopted and is loved and spoiled in his new home!
Benny
Benny came to our shelter with a severe respiratory infection and required hospitalization. Benny received intravenous fluids and antibiotics and is now a strapping young handsome dog who was promptly adopted.
Henry
Henry came to the shelter with several dental abscesses and loose teeth which impaired his ability to eat. This spunky senior deserved better. The abscesses were drained and the loose teeth were extracted. Henry went on to live happily, enriching the lives of those who loved him. He has since passed away, but is remembered on our Nature Trail with "Henry Hollow".
Ruby
Ruby, an unbelievably sweet Shepherd mix, was brought from another shelter with a mammary tumor. Ruby had appropriate diagnostic tests, the tumor was removed, and now she is the light of her adopter's life. Who can resist those eyes?
Pacey
A senior Beagle found wandering the streets of Port Washington. Pacey had a large tumor in the gum line of his mouth. This was removed with funding by our Mend-A-Paw fund. Pacey was adopted and is now living with Buddy, another shelter alumnus.
Buster
This adorable little Cocker spaniel arrived at our shelter with a painful condition diagnosed as bilateral, weeping "cherry eye". With Mend-a-Paw funding, corrective surgery was successful, and now Buster is living a happy and healthy life in his loving new home.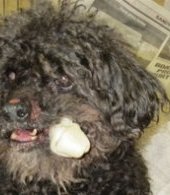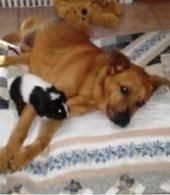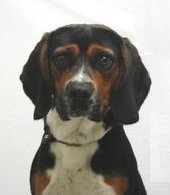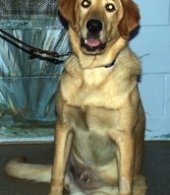 Share this article
Related Posts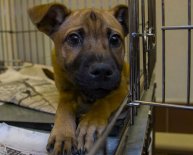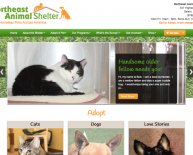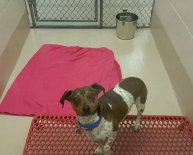 Copyright © 2021 l www.starsofamelia.org. All rights reserved.