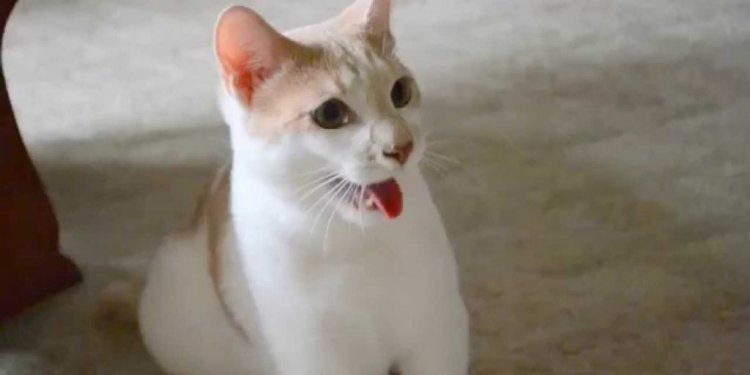 Dog Pound Near me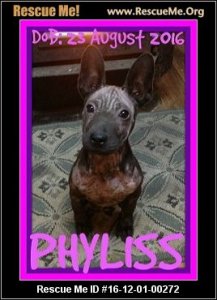 Chihuahua Mix Age: Young Puppy

| | |
| --- | --- |
| Personality: | High Energy, Average Temperament |
| Health: | Vaccinations Current |


PLEASE ENSURE YOU READ ALL THE INFORMATION PROVIDED TO LEARN ALL ABOUT PHYLISS, HER LOCATION AND ADOPTION OPTIONS. PHYLISS originally came from a high kill shelter in Texas where dogs generally have just 3 days to be saved before they are killed due to the thousands of stray dogs that sadly are in desperate need of life of the streets and ultimately a home of their own. PHYLISS is spayed, rabies, core vaccines, heart-worm & tick disease tested negative (4dx), de-wormed and micro-chipped. She has an estimated date of birth of 23rd August 2016 and at the time of rescue December 2016, weighed approximately 11 pounds.' Although we do not know what breed she is, we have been told by several people that she looks very much like a Mexican Hairless Dog, Xoloitzcuintli. This breed also can have hair. PHYLISS did have demodex mange and skin infections when we first saved her but with treatment and immune ad skin support supplements, coconut oil, fish oil, vitamin c, she has made a great recovery. Although not all of her hair has grown back, it might just take time, or it may never grow back as too much damage could have been done to her hair follicles. Time is the only way to know and of course continuing on the support supplements will help. I really have no idea what breed she is, the shelter have her down as terrier/pit bull mix, you can decide what breed you think she is. PHYLISS has been diagnosed as having demodex mange and skin infections, both are non-contagious and common in neglected, mal-nourished pups and dogs. She is on medication for it and is doing great. PHYLISS is a confident, happy, inquisivie, loving, affectionate, energetic girl. She has not shown any fear or hesitation in anything she has seen and has been great with the other dogs of all ages and sizes. As she grows and gets a little older she will learn and benefit from living with lots of dogs of different ages, breeds, personalities and sizes. We do NOT have cats at the rescue so cannot comment on how she would behave around cats. We have dog doors in the house and PHYLISS does use them sometimes, but for the most part she is not house-trained, so it is important that she goes to a family that understands she is going to need some work in this area, she is super smart and I would not imagine it would take long. PHYLISS would benefit from an active, fun family that has the time to work with her on her obedience and manners, who would take her on adventures and road trips and let her explore the sights, sounds and smells the world has to offer. By working together both PHYLISS and her humans can learn each others body language and personality, expectations and boundaries can be set and with self-training a stronger bond formed. PHYLISS is very smart and responsive and I believe training would be relatively easy and fun. We currently feed SPORTMIX Wholesomes Chicken Meal & Rice Formula, a 4* (a per GRAIN FREE food along with pro-bioitics and immune support supplements listed on the available dogs page! PHYLISS is available for adoption through Give a Dog a Home, German Shepherd Dog Rescue for an adoption fee of $500. This fee is not negotiable and is used to cover the rescue costs of pulling, vetting, health certificate, transport from Texas to Maine, monthly preventatives, supplements, food and anything else that is needed. If you feel that you have the heart and home to give this sweet precious soul, please go to our website, under the APPLICATION tab, complete, then submit the APPLICATION. Our process takes around 2-4 days, and ensuring your references are aware that we will be calling, could speed up the process. Once you have been approved, we discuss any questions in regards to the dog you are wanting to adopt, then you complete and submit the contract, make payment and then we can work out the pick up / transport arrangements. Please do NOT submit an application if you are not looking to take home a new best friend within the next few weeks. PHYLISS is located at the rescue in Sebec, Maine. We post in various states along the east coast and Canada where we have had lots of successful adoptions to enable more exposure for these beautiful saved souls. Families will need to be prepared to travel to the rescue to meet and take home their new best friend. There is a local hotel in Dover-Foxcroft that is pet-friendly (approx 6 miles) and several in Bangor (approx 45 miles). There are also lots of wonderful camp-sites for the more adventurous families and what a great way to get to know your new best friend. If there are options to arrange transport, we will work with you to make it happen. (Less)
Adoption Fee: $500 Animal Location:
Give a Dog a Home, German Shepherd Dog Rescue
Piscataquis County Sebec, ME 04481 MAP IT!
Share this article
Related Posts