Dogs Pound Ocala FL
The St. Paddy's Pups are now in class at the Marion Correctional Institution Work Camp! They will graduate and be ready to take home on St. Patrick's Day, March 17, 2017.
You can see photos of their first day on our Facebook page. We will post here and on Facebook the details of their upcoming outings, where you will have a chance to meet this new group of dogs. We are accepting adoption applications now- you can apply any time!
If your business is interested in hosting an adoption event or would like to discuss helping us to promote this awesome program, please send us an email!
Click on each photo to see a full-size printable flyer.
This program is a partnership with Marion Correctional Institution for The FIDO Project. A few select inmates of MCI's Work Camp have embarked on a journey with some of our homeless shelter dogs. These men will prepare the dogs by training them in basic obedience and socialization, with a goal of earning AKC's Canine Good Citizen certificate, the gold standard for dog behavior.
All dogs involved in this program will be available for adoption, and we hope the new owners will continue to practice the skills that they will have learned at MCI. The men will live with and keep journals for each dog and practice training every day.
How to adopt a FIDO graduate
During each eight to ten-week class, the public will get an opportunity to meet the dogs at public outings. The outings will be held at local businesses or other venues in which the potential adopters can spend quality time with each dog and decide which one would be best suited for their family. Adoption applications can be submitted at that time, and the dogs can even be adopted while they are still being trained at MCI. The dogs will still be required to remain in the program to complete their training, but the adopters can take home their new family member upon graduation!
We will post announcements and updates about the program on our MCAS Facebook page, so please, follow us! Feel free to email us with any questions, offers, or ideas.
*This application may not work with Google Chrome unless some settings are changed. You may either email us to assist you with these changes, or complete the application through Internet Explorer.
How you can help
Your donations are appreciate to keep this program running! You may drop off donations at Animal Services, hold a collection drive or bring donations to one of our adoption events. We would truly appreciate the following items:
• Treats: Zukes Mini Naturals Dog Treats, Cloud Star Tricky Trainers, My Little Wolf Treats.
• New toys.
• Bully Sticks dog chews.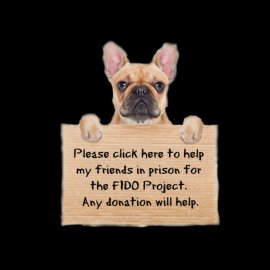 • Printing or sign companies who are willing to donate any advertising material, such as banners, flyers, decals or t-shirts. We'll supply the graphics. This is one of our most needed items!
• Regular donation of healthy dog food (brand should be consistent for entire class).
• Sponsors to support this program/host events, collect donations and help spread the word!
• Goodies that will be given to adoptive families at graduation ceremony (gift certificates or coupons, t-shirts, leashes, beds, toys, food, treats, books).
• Local businesses willing to host an adoption event.
Share this article
Related Posts