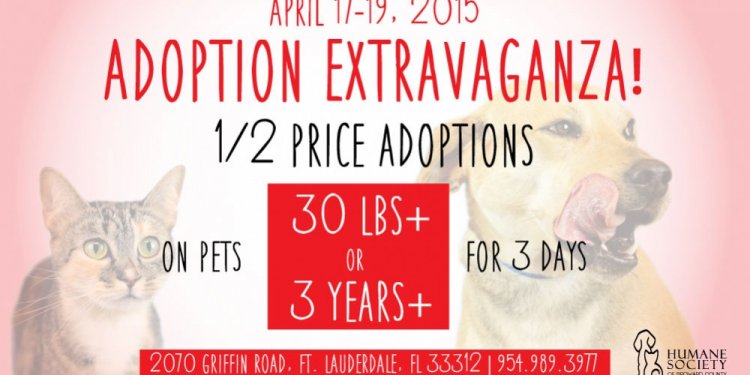 Humane Society of Broward County Adoption
Join the Humane Society of Broward County on Friday, October 7 at noon – Sunday, October 9 for their Noah's Ark Adoption Special.
Adopt any pet one year of age and older and the adoption fee is being waived, of course donations are appreciated. You can even adopt a pair of felines, Guinea pigs or a bonded pair of dogs.
According to Cherie Wachter of the HSBC, "with hurricane Matthew hitting counties north of us and in the southern states, we are hoping to find homes for many of the animals we currently have at our shelter in case we need to assist other animal shelters by taking some of their pets."
All pets adopted from the HSBC are spayed/neutered before going home. In addition they receive preliminary vaccinations, microchip, bag of Purina ONE pet food, dogs over 7 months are tested for heartworm, cats are tested for feline leukemia, a 10-day limited health care plan courtesy of VCA Animal Hospitals, a 30-day trial membership in Trupanion pet insurance and more.
The Humane Society of Broward County is a private, non-profit organization that is not affiliated with any local or national organization with a similar name. The HSBC is supported by donations from people and companies that want to help us help the homeless animals. If you would like to help, visit our website at Here you will find directions, photos of the animals available for adoption and information on how to make a donation. Or visit us at 2070 Griffin Road, just west of I-95.
Share this article
Related Posts