Adoption a Pet Broward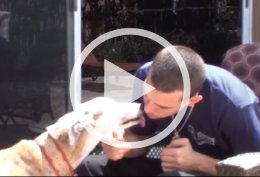 Learn more about the Adoption Ambassador program
The Humane Society of Broward County Adoption Ambassador program helps more shelter pets find forever homes, but its success depends on the active involvement of pet lovers in the community.
The Adoption Ambassador program is made possible by support from the Mary N. Porter Designated Fund, David W. Leonard Fund, Francis and Bessie McDwyer Fund, and Helen Victoria Foote Fund of the Community Foundation of Broward.
The majority of animals at our shelter have been surrendered by families who can no longer care for them. Since they know what it's like to live in a nurturing home, some dogs and cats find it hard to adapt to animal shelter life and often become depressed. In some cases, pets that have been surrendered to us also need extra help from caring volunteers to make them more adoptable.
With the introduction of the Adoption Ambassador Program, the HSBC can now offer these wonderful animals this much better alternative. Sometimes all it takes is removing them from the shelter and placing them in a home environment – similar to what they are accustomed to – in order to ease the transition. Adoption Ambassadors also provide much needed support for homeless pets that need training, medical care, or socialization before finding their forever homes.
What is an Adoption Ambassador?
The shelter's new Adoption Ambassador Program is similar to foster care, but goes a step further. Adoption Ambassadors provide temporary homes for select pets, which will be spayed or neutered and given their preliminary vaccinations before arriving in their temporary homes. (All food and supplies needed to care for the pet are provided to you.) But unlike foster families, Ambassadors will help maximize their pets' availability and exposure. Each dog will leave with a bright colored "Adopt Me" vest so that while they're in parks and other pet-friendly venues, the public will see that the pet is looking for a forever home.
What does an Adoption Ambassador do?
Adoption Ambassadors will also raise the profiles and availability of their canine or feline charges through other creative means, such as social media, homemade signs and by alerting their contacts in their professional and community networks. Once they have found an adopter that's a good fit, they will process the paperwork and present the adopting family with their new loving companion. As a further reward, they'll know that as a result of their efforts, the pet will not have to spend another day at the shelter. The Adoption Ambassador Program arranges and attends pet friendly events in the Tri-County area so Ambassador volunteers and their Ambassador pets can meet up and showcase their wonderful adoptable dogs and cats in our local community.
Is there a teen Ambassador Program?
Teens can also participate and earn their required high school community service hours by partnering with a parent and becoming a Teen Adoption Ambassador. As a Teen Ambassador, you will earn three hours for every day the dog is at your home. In addition, you can earn hours for walking your Ambassador Dog in public with their "Adopt Me" vest on; attending weekend events; making and hanging signs; promoting your Ambassador pet through social media; and making phone calls and sending emails to let people know you have a loving shelter pet that needs a home! A parent or guardian must attend an adult shelter volunteer orientation in order for a teen to participate. Families must complete one successful adoption experience before school service hours can start to be accumulated.
Share this article
Related Posts