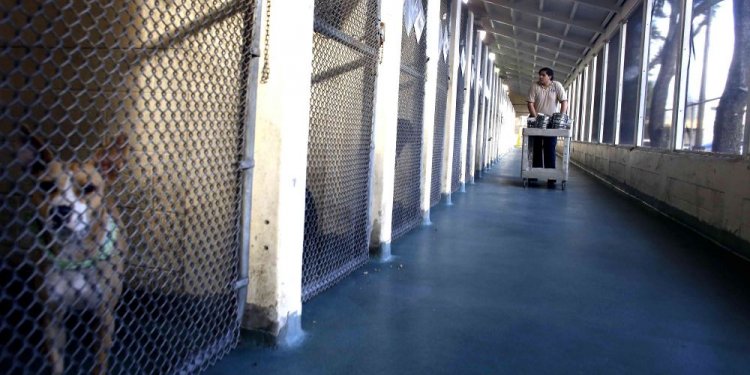 Miami Dade Animal Services Jobs
The Humane Society of Greater Miami cares for hundreds of homeless dogs, cats, puppies and kittens each day. We depend on our team of staff and volunteers to help us help the animals! By joining the Humane Society of Greater Miami, you become part of a wonderful cause and of a great team. Only qualified applicants will be considered based on the position requirements. Please review below our current employment opportunities:
PURPOSE & SCOPE OF POSITION
Responsible to supervise the care, humane treatment and management of all animals residing in the Humane Society of Greater Miami's animal shelter, which includes the Adoption Unit, Isolation Unit and Intake building.
General Duties:
Supervises the kennel team which includes directing, evaluating, disciplining, scheduling and selecting of staff.
Provides leadership and training of kennel staff in regards to compassionate and humane animal care.
Ensures that all kennel cleaning/sanitizing procedures and safety protocols are always followed – no exceptions!
Regularly checks shelter animals for any signs of health issues to ensure they are quickly identified and reported to the correct staff/management to be addressed.
Maintains and administers animal move list.
Ensures animals are in proper location in the shelter with the correct identifying kennel card, photo and name tag/band.
Works with management to ensure animals are going to be ready for adoption so necessary rooming adjustments can be made.
Oversees the preparation of animals for adoption, events and outreaches.
Ensures adequate inventory of food and kennel supplies; prepares order information.
Directs and assists in the unloading and proper stocking of food, cat litter and other animal/kennel supplies delivered to the shelter.
General office duties; responding to emails, phone calls, running reports, etc.
Performs other duties as assigned.
QUALIFICATION REQUIREMENTS
Training and education related to the care and treatment of animals.
Experience handling dogs of every size and cats; able to manage both dogs and cats in a safe manner if the animal should demonstrate any aggressive behavior.
Excellent organizational skills required.
Ability to supervise and work with staff with different degrees of skills and abilities.
Ability to prioritize, organize, problem solve, and coordinate daily activities.
Possesses interpersonal skills, ability to interface with customers and their families.
Self-starter and able to work without direct supervision.
Able to keep up a very quick pace for long shifts.
Sympathetic and objective understanding of other persons; tact; patience; emotional stability; pleasing personality and neat personal appearance.
Available to work weekend and holidays.
Computer literate; Micosoft Office programs
Must be inoculated for rabies and tetanus.
Must have a valid Florida Driver's License with a good driving record.
Must feel comfortable driving a large van.
PHYSICAL DEMANDS
The physical demands and work environment described here are representative of those that must be met by an employee to successfully perform the essential functions of this job. Reasonable accommodations may be made to enable individuals with disabilities to perform the essential functions.
While performing the duties of this job, the employee is frequently required to stand, walk, sit; to speak and hear clearly; and to use hands to finger, handle, or feel; and to reach with hands and arms.
The employee must regularly lift, move, and restrain animals weighing up to 50 pounds and must occasionally lift, move and restrain animals weighing up to and at time over 100 pounds (with assistance).
The employee is occasionally required to stoop, kneel, crouch, or crawl. Specific vision abilities required by this job include close vision, depth perception, and ability to adjust focus.
Persons performing this job must not be allergic to animals (especially dogs and cats), cleaning agents, or medications.
Other possible job hazards include exposure to corrosive chemicals and cleaning agents, exposure to feral and vicious animals, to animals with an unknown health history and therefore, exposure to zoonotic diseases through the use of hypodermic needles, animal bites and scratches, airborne transmission, and physical contact.
SURGICAL VETERINARY TECHNICIAN (CUTLER BAY CLINIC LOCATION)
PURPOSE & SCOPE OF POSITION
Under the supervision of the Chief Medical Officer, staff veterinarians, and supervisor, the Surgical Technician is responsible for exceptional care of the animals being provided with spay/neuter services at our Miami-Dade County Community Spay Neuter Clinic located in Cutler Bay.
Performs duties, independently with minimal supervision, operating from specific and definite directions and instructions. Decisions are of routine nature made within prescribed operating guidelines, policies and procedures.
Proficiencies:
Must be proficient at:
Performing a basic physical exam including taking body weight, body temperature, heart and respiration rate
Paying attention to the smallest details
Mathematical calculations
Capable of converting pounds to kilograms and vice versa
Performing proper and humane restraint on a dog or cat
Administering drugs IM, SQ, and IV
Properly preparing and administering FELV, FVRCP, DA2PP, and Bordetella vaccine
Share this article
Related Posts