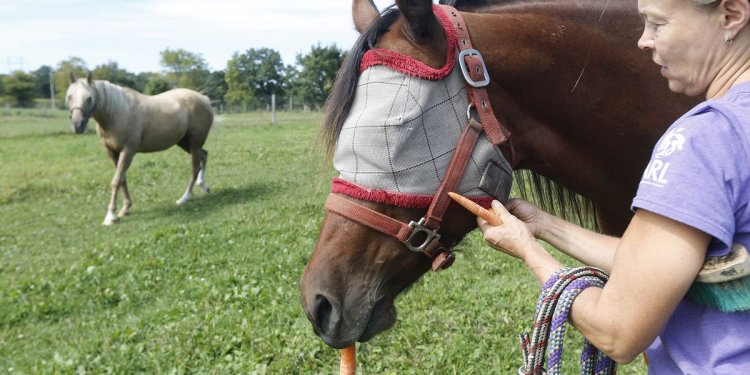 Polk County Animal Rescue League
Polk County Sheriff Grady Judd is now running a pig pen.
A judge on Tuesday awarded the Sheriff's Office custody of 178 farm animals, including more than 100 pigs, 40 chickens and a horse, after deputies found them last month living in deplorable conditions at a rescue ranch in Polk City.
The pigs are now doing fine and are being kept well-fed at the Sheriff's Office stockade in Bartow, officials said.
Deputies arrested the owners of Darlynn's Darlins on Aug. 9 after getting a tip about possible animal cruelty from People for the Ethical Treatment of Animals.
PETA launched its own investigation into the ranch earlier this year by going undercover and posing as volunteers. They recorded videos and reported finding animals went days without food or water, and were denied necessary medical care, the Sheriff's Office said.
Darlynn Czerner, 65, and Clinton "Butch" Martin, 61, have remained in the Polk County Jail since and both are facing 138 counts of animal neglect and three counts of felony animal cruelty, according to the Sheriff's Office.
The ranch is advertised as a "No kill animal sanctuary, advocacy and education organization" that takes in abused or abandoned farm and domestic animals, according to its website. It's a non-profit rescue, and according to its website, doesn't have any paid employees.
The undercover PETA volunteers ended up turning over their information to Sheriff's Office detectives, who raided the ranch in early August and removed nearly 200 animals.
Deputies have been caring for the animals since then and filed suit against Darlynn's Darlins to get legal custody of the animals. That finally happened Tuesday when a judge ruled in the Sheriff's Office's favor. The menagerie also includes 11 cats, five dogs, two ducks, a rabbit, a horse and a steer.
Investigators said at least four additional animals rescued from the ranch have owners. The judge granted those owners 10 days to claim their pets, including pigs named Homer, Sophia and Mable and Prince the cat, or they'll also be turned over to the Sheriff's Office, court records show.
Deputies are working with PETA and the Pig Advocates League to help place the pigs in new homes.
Alana Rogers, of the Pig Advocates League, said they'd like to have the pigs evaluated by a trained veterinarian to determine their individual personalities. That way, she said, they can place the pigs, which were all raised as pets, in quality homes.
"Just like dogs and cats, not every pig is suitable for every family, " she said. "We want to make the correct match the first time."
Court records show Czerner and Martin are banned from owning any animals in the future, unless they can prove they are fit to care for them.
Rogers said many Florida rescue groups have been overrun with mini pigs because of over-breeding and a lot of the Darlynn's Darlins pigs could end up in homes outside the state.
Those interested in adopting or fostering a pig must provide the group with information about prior pig-caring experience and give vet references.
Share this article
Related Posts