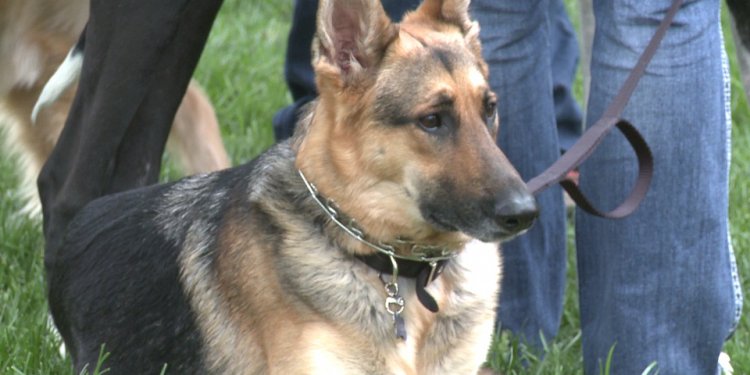 Humane Society for dogs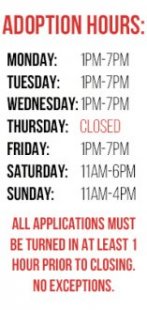 Adoption Lobby Hours
Monday 1pm - 7pm
Tuesday 1pm - 7pm
Wednesday 1pm - 7pm
Thursday Closed
Friday 1pm - 7pm
Saturday 11am - 6pm
Sunday 11am - 4pm
Major Holidays Closed
The adoptable puppies and adult dogs listed here are updated in real-time: if you see their photo, they are available for adoption at that moment. When they're adopted, their photo and profile are instantly removed from this page. Due to the number of animals we receive and adopt out each day, we cannot guarantee that the animals listed here will still be available when you arrive at our facility. If you would like to know if a particular animal is still available for adoption, please visit us in person. Due to very limited staffing, we are not able to quickly respond to calls or emails related to adoption inquiries.
There is not a specific time that animals are added to our website. They are added after close the previous day and before we open the next day. Once we have opened for the day, we will not add any additional, available animals to our website.
Our shelter cannot guarantee the breed of any animal. Unless we have actual papers, we label all animals as a "Mix." We determine an animal's breed based primarily on physical traits that appear to match a particular breed's characteristics. Information supplied by an animal's previous owner will also be used to identify breed.
When viewing a dog's profile, please make sure to check their location, as they may be at the shelter, in a foster home, or on our new IndyHumane Pet Adoption Wagon!
Andretti
Male/Neutered
Otterhound/Mix
9 years 10 months old
Odie
Male/Neutered
Terrier, American Staffordshire/Mix
8 years 5 months old
Lola
Female/Spayed
Miniature Pinscher/Chihuahua, Short Coat
10 years 11 months old
Tyson
Male/Neutered
Schipperke/Chihuahua, Short Coat
6 years 5 months old
Lucy
Female/Spayed
Mixed Breed, Medium (up to 44 lbs fully grown)/Mix
4 years 4 months old
Sawyer
Male/Neutered
Bulldog, American/Mix
2 years 4 months old
Trista
Female/Spayed
Terrier, Bull/Retriever
1 year 1 month old
Chimichanga
Male/Neutered
Terrier, English Staffordshire/Mix
1 year 2 months old
Sadie
Female/Spayed
Australian Cattle Dog/Mix
4 years 2 months old
Diesel
Male/Neutered
Pointer/Mix
1 year 2 months old
Raya
Female/Spayed
Boxer/Mix
1 year 7 months old
Zephyr
Male/Neutered
Retriever, Labrador/Mix
7 years 1 month old
Piggy
Female/Spayed
Terrier, Staffordshire Bull/Mix
8 months old
Queenie
Female/Spayed
Terrier/Mix
2 years 1 month old
Corey
Male/Neutered
Retriever/Mix
2 years old
Rowdy
Male/Neutered
Terrier, American Pit Bull/Boxer
5 years 7 months old
Dolly
Female/Spayed
Terrier, Rat/Mix
Share this article
Related Posts