Gold Coast Pet Adoption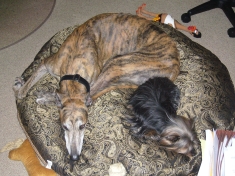 Benny and Lightning
We love Benny so much. He answers to his name and is getting along famously with Lightning. He loves our short evening walks and our son is crazy about him. We could not have hoped for a better match! Thank you so so much!
Cyndi
Rae Anne and Pink
I was originally told years ago that I could not have a greyhound with another small pet in the house, as the greyhound would likely kill it. So, my dream of having a greyhound was put on hold as I had a 5 1/2 lbs Yorkshire Terrier at the time. After I had to put my Yorkie to sleep, I had a cat and thought I would still not be able to get a greyhound, until one of my co-workers, Susan Baker, adopted a greyhound from Gold Coast. When she showed me the pictures of her "new baby", I was amazed that she could have a greyhound with 2 cats, so I started looking at the greyhounds on Gold Coast's web site. Susan told me that I needed to get Pink because she matched my cat (who is white and orange), but I didn't want matching pets. I went to the next meet and greet on December 17, 2006 to look at this beautiful greyhound named Red Queen (a red with white and black markings on her face), I thought she was the dog for me until I meet her. She was kind of standoffish with me, and we just didn't click. Well, almost as soon as I walked into PetCo, this white and red greyhound came and leaned against me. Judy, who I had only said hello to at this point, said "That is the dog for you", and Donna Galante agreed and said that she (Pink) had picked me. Every time I tried to walk away, she followed, and every time I tried to pet another greyhound, her head was right there for me to pet her too. I fought it for about 2 hours before I caved in, and agreed that she was the dog for me. I was finally able to get her on December 29th after I had returned to Orlando from visiting family for Christmas. Her race name is Kay V.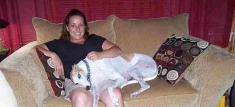 Pink, and it suited her so well that I kept it, and just call her Pink (or as Ron and Shirley call her Pinkiepoo). I have never regretted getting Pink, even though I never wanted matching pets. She is definitely the right dog for me. Oh, and I forgot to mention, I really don't like white animals! Now I have two!
Rae Anne
Happy Birthday Lola!
We adopted Gmc Dilly two weeks ago today. We've renamed her Lola and she seems to have settled right in with us. The past two weeks have flown by and we couldn't be happier. Saturday we even had some friends over and had a birthday party for Lola. I baked her a cake made of shredded carrot, peanut butter and honey and decorated it with pureed cottage cheese. Her and her new dog friends really enjoyed it!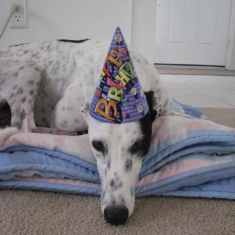 Thanks so much Gayle and Judy for matching us with the perfect dog :)
Tracey
Giving Kisses
We were so excited to go to the annual picnic at Suncoast Kennels...we were going to be able to see and hold greyhound puppies for the first time! With 5 of our own dogs and 2-3 fosters at a time, we had no intention of adopting another...we had a full house. That is, until Syesha stole our hearts. There she was in her crate.a beautiful, tiny, black greyhound with soulful brown eyes that melted you when you looked at her. Once we reached in to pet her and saw how sweet she was, we just couldn't say no. Syesha has been in our home for about a month now...she has blended so well with all of our other dogs. Her sweet disposition has stayed, and her silly side has emerged. She loves to give kisses, play with squeak toys, and spin circles in excitement. Our children love her, and she loves them. We finally have a beautiful black greyhound of our own, and what a doll she is!!
The Clauss Family
Picture Coming Soon
If I had to sum up our greyhound adoption experience in one sentence, it would be: "I got a hop".
We adopted Brie (a six year old ex-racer) a few months ago. We had no knowledge about greyhounds and had never met one until a year ago. That is when we found out about their sweet and gentle nature and started thinking about getting one. I was hesitant to add a new dog to our household since we had a senior (13+ years) lab mix dog and I didn't want to upset her routine. We spent a lot of time talking to Gold Coast about what type of dog would be a good addition to our family and found the right match in Brie. Brie has brought out the best in our dog, she is more social and has more spring in her step and now happily walks around the block when she used to be scared to go more than 2 houses away.
Back to the "hop" reference. When one of us comes home, Brie will usually single someone to give a "hop" to. She keeps her two front legs straight and lifts them off the ground balancing on her two back legs. She doesn't put her paws on you or jump. Just a little "hop". Sometimes 2 inches, sometimes 2 feet. It is so sweet and makes you feel very special.
Share this article
Related Posts