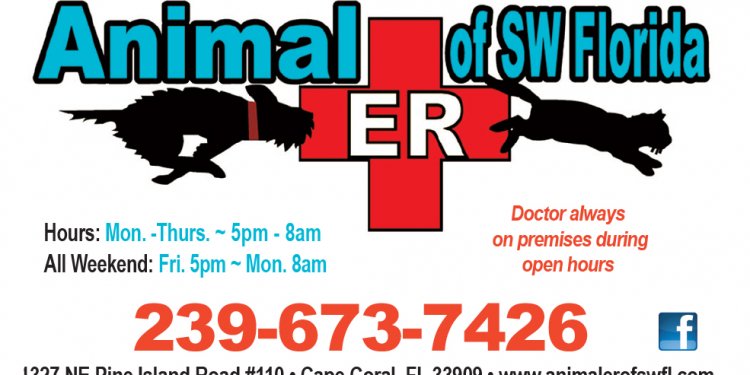 Gulf Coast Humane Society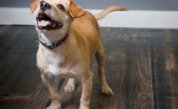 Mojo: The Inspiration for the Second Chance Fund
Mojo was a one year old Catahoula Leopard Dog mix who was transferred to the GCHS from Lee County Domestic Animal Services. When Mojo arrived he had what was thought to be a spider bite on his left leg. However, the so called "spider bite, " would not respond to antibiotics and Mojo's condition worsened. To help determine what was really wrong with him, a skin biopsy punch was used to acquire four samples of the dermal mass from four different areas by Dr. Eisele at Specialized Veterinary Services.
The results showed that Mojo had Pythiosis which is caused by a fungal-like aquatic organism that exists in stagnant water or on grasses that have been exposed to stagnant water.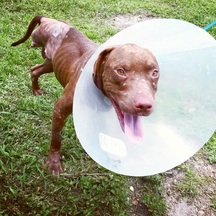 The disease is most common in tropical or sub-tropical climates. In the USA it tends to be seasonal, most commonly between August and December, and can affect dogs, cats, and horses. In dogs, Pythiosis can occur on the skin, gastrointestinal, or as multi-systemic forms.
Mojo was afflicted with the skin form of Pythiosis which occurs when the organism comes in contact with an open wound. Signs of the disease include wounds that won't heal properly, ulcerated small lumps, and fistulas.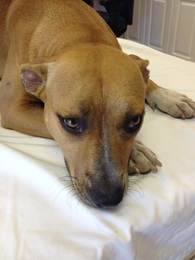 Hairless lesions are most commonly found on the tail, legs, stomach, neck, and face. They are extremely itchy and irritating to the dog. Surgery to remove the affected tissue, leaving wide margins, can be effective for the skin and gastrointestinal forms but will not cure the dog if it does not completely eliminate all of the lesions. As in Mojo's case, limb amputation was necessary. After amputation anti-fungal medication is given for 2-4 months.
To give Mojo the best chance of survival and quality of life, it was decided that his left hind leg needed to be amputated.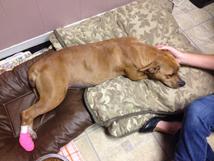 Even with a discount, the cost for the surgery amounted to , 330.00 which did not include previous or continuing medication.
Mojo's situation, and our dedication to all of our animals, has spurred us to start the Second Chance Fund. This fund will allow people to donate directly to the care of our sick and special needs animals, which helps to alleviate some of the financial cost that comes with their needed care. We've added a separate way to donate on the website and you can make checks payable to GCHS Second Chance Fund. All monies donated to the Second Chance Fund will directly...
Despite the pain she must have been in, Ellie's tail never stopped wagging. She's a sweet girl who enjoys attention, sitting in your lap and holding your hand.
Share this article
Related Posts