Pet Rescue St. Petersburg FL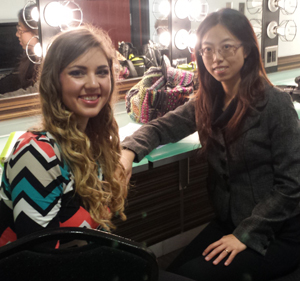 Melissa Petrescue describes herself as "a business major in college and a music major in life."
As an award-winning concert pianist, Petrescue has performed with the Florida Orchestra and at Busch Gardens Tampa Bay through connections she's made at SPC.
As a business-savvy entrepreneur, Petrescue is using lessons learned in her business degree to further her natural musical talent.
"I am kind of my own business, " said Petrescue. "I'm self-employed so these skills and these tools that I'm acquiring: marketing, entrepreneurship, even project management, can come in handy with planning and organizing the music projects that I do."
The gift of music
Her love for music started at an early age. Her mother was a piano teacher so music students were coming in and out of their house all the time. Her first lessons began at age 5.
"I grew up in a very musical family, " she said. "I used to fall asleep to the exhilarating sounds of Rachmaninoff as my brothers practiced at night."
She started taking dual enrollment classes at SPC as a high school student in 2010 and earned her A.A. degree in 2013. During that time she studied classical piano with SPC professor Dr. Xu Hui.
"I don't think I would be here today if it wasn't for getting linked up with Dr. Xu Hui, " she said. "She is a professional instructor and brilliant pianist, who I am so grateful to have had the opportunity to study with and prepare for competitions."
Petrescue has also participated in the SPC Piano Concert Series Master Classes, working with Steinway Artist and Artist-in-Residence Rebecca Penneys.
Her hard work over the years has paid off with a long list of awards that have opened doors for her to perform professionally with organizations like the Florida Orchestra and Busch Gardens Tampa Bay.
Top prize: playing with the Florida Orchestra
In 2015, Petrescue won first place in the senior piano division of the Justine LeBaron Young Artists Competition for playing the first movement of Mendelssohn's Piano Concert No. 1 in G Minor, Op. 25.
Held annually at the St. Petersburg College Music Center, the competition is sponsored by the Florida Orchestra Musicians Association. This year's event is scheduled for Saturday, April 16 and is open to the public. .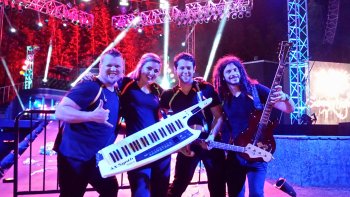 When Petrescue won the 2015 competition, the Florida Orchestra invited her to perform with them at Clearwater's Ruth Eckerd Hall and the Mahaffey Theater in downtown St. Petersburg in February.
"Performing with the Florida Orchestra was surreal, " said Petrescue. "It was like a childhood fantasy that I was living out. It was absolutely thrilling."
Petrescue also played with members of the Florida Orchestra in a 2012 chamber music concert after winning the piano division of the Stephen P. Brown Concerto competition. As the featured pianist, she played Schubert's Quintet in A major.
Making connections
Petrescue shared other talents with fellow students as a peer advisor on SPC's Seminole Campus.
"Being a peer advisor was such an incredible experience, " she said. "I love the concept of using my personal experience as a student, along with professional academic advising training to help enhance the college experience for others. Having that personal connection with somebody – it really sets SPC apart."
Petrescue was invited to join other peer advisors as part of an expert panel at the National Academic Advising Association's Summer Institute.
"This conference has provided me with a much better understanding of the purpose behind the peer advising program, " she said. "I have a greater sense of purpose as I see how my role fits in with the big picture."
Another benefit of working as a peer advisor was making her own connections. While working as a peer advisor during one of SPC's Working Wednesday events aimed at getting students into jobs, Petrescue met a recruiter from Busch Gardens Tampa Bay.
"I found out they were holding auditions, and it has always been my dream to perform at the park, so I auditioned on a whim to play background piano music in the Crown Colony Restaurant as part of their Christmas Town event, " she said.
It started out as a seasonal gig, and then turned into a part-time job as she was invited back to perform in various day-shows a few days a week.
"If it wasn't for attending the Working Wednesday event, I wouldn't have known the opportunity even existed, " she said.
"SPC does an excellent job of connecting students with the community through internships, job fairs, conferences, community service projects, as well as other extracurricular and career service programs, " she said. "There are a tremendous wealth of resources and tools available if students will take advantage of them. Though I have been really proactive in my pursuits, I thank God for bringing these opportunities across my path."
SPC Foundation Scholarships made college affordable
Like many SPC students, scholarships from the St. Petersburg College Foundation made Petrescue's education affordable.
"I am so thankful for the financial support that has greatly helped fund my education, " she said. "Through the Foundation, I have been selected to receive generous contributions through the private gifts of individuals, community groups and businesses."
While at SPC, Petrescue was awarded the following Foundation Scholarships:
Rotary Club of Seminole Scholarship
Robert and Mildred Baynard State Contribution Scholarship
Robert and Mildred Baynard Ethics in Business Scholarship
Needy Students Scholarship
Vivian T. Greve Scholarship
The business side of things
As an entrepreneur, Petrescue was looking for a broad, practical degree that she could apply to the variety of things she is doing. She found it in the Bachelor of Applied Science in Management and Organizational Leadership.
Petrescue teaches private lessons and sings professionally for a variety of special events, concerts and ceremonies. She was the piano accompanist for St. Petersburg College's Xanadu and Godspell theater performances.
Petrescue has also taught masters classes for the American Stage Theater Company, where she also worked as a music director for their youth summer camp programs in 2014 and 2015.
"I have had several leadership opportunities cross my path and I figured this degree would be the best tool to help me continue to grow in that area, " she said.
As for her future career path, Petrescue is learning as much as she can and sees her business degree as a possible stepping stone into musical directing or orchestra management.
"Right now I am very passionate about the performing arts, " she said. "I dream of traveling to perform and study abroad! Perhaps in the future, I will be more serious about teaching. I also enjoy working with people, and applying my leadership and administrative skills in an organization. Whether I do these things separately or somehow merge them, I am open-minded."
She highly recommends SPC as a place to grow, find your passion and make connections.
"The classroom experience is only half the story, " she said. "The faculty are incredibly knowledgeable and experienced. They offer degree programs that are relevant and continuously expand on them. They want students to succeed – that means everything."
Share this article
Related Posts