National Humane Society

The Humane Society of Baltimore County, now known as the Baltimore Humane Society (BHS), was founded in 1927 by a pioneering and compassionate socialite named Elsie Seeger Barton (1886-1983).
In 1902, at age 16, Miss Seeger was stricken with Rheumatic Fever and was confined to her bed. During that time, her constant companions were the family's beloved pets. It is believed that at that time, Miss Seeger resolved to devote her life to the care and humane treatment of companion and service animals. When she became well, she established a refuge for abused and homeless animals on her family's estate, known as "Thistle Top, " located on Milford Road in Pikesville, MD, overlooking Gwynn's Falls Dam. In 1908 she married Bolling Walker Barton, Jr., President of Barton, Duet & Koch Paper Company.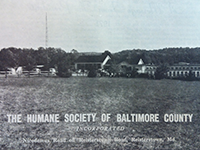 By the 1920's, Mrs. Barton was well known throughout the community as the "animal lady, " and had found a number of other society women with whom she shared a common goal. Together, these ladies began what we now know as the Baltimore Humane Society, with Mrs. Barton leading the way, both financially and in spirit. In August of 1927 BHS officially became incorporated in the State of Maryland. The ladies then opened a charity shop on Reisterstown Road at Walker Avenue, the proceeds from which helped fund the early operations of BHS.
By 1931, animals were still being kept on the Seeger estate, and even though proper and humane kennels had been built there in 1929, Mrs. Barton knew the time had come to build her own sheltering facility. In 1936, a new 23-acre compound was opened on Park Heights Avenue near Old Court Road. It was a marvel for the time, and included a 22-room administration building, a three-story horse hospital, an animal hospital with operating rooms, a ring for horse and pony shows, playrooms and classrooms for Humane Education programs, a library, an auditorium, an aviary, a pet cemetery, and of course, state of the art quarters for the animals. Mrs. Barton privately funded the project, and dedicated it in honor of her father, Paul August Seeger, in the presence of 500 supporters. This new facility even offered free veterinary clinics twice a week, and a 24-hour pet ambulance service! Mrs. Barton was truly ahead of her time.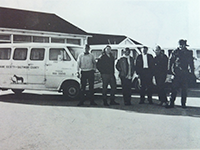 In the 1940's, Mrs. Barton contracted with the Baltimore County government to run their "stray department, " a precursor to animal control. For the next 30+ years, BHS would patrol the nearly 600 miles of Baltimore County roadways, collecting deceased animals, operating the early licensing programs, and helping reunite owners with lost pets, among many other tasks. During the war, BHS served by providing classes and lectures on disaster preparedness for pets and livestock, and even hosted Baroness Spackleberg of England, who came in 1941 to talk about Air Raid Precautions for animals. BHS also partnered in 1942 with American Red Star Animal Relief (a program of the American Humane Association, which still functions to this day) for the duration of the war.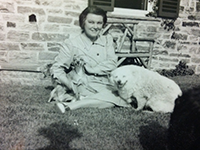 In the early 1950's Mrs. Barton received some bad news…construction of the Baltimore Beltway was slated to begin soon, and the path ran straight through her beautiful new facility. Knowing it was a fight she couldn't win, she began buying parcels of property off of Nicodemus Road in Reisterstown, and eventually purchased 400 acres of rolling hillsides, farmland, and woods. She moved some 800 graves from the location on Park Heights Avenue to this new location, and built, yet again, a state of the art shelter for her charges. In 1957 the new facility opened, however years of funding BHS with her own money, not to mention acquisition of 400 acres of land, had taken their toll, so this facility did not boast all of the amenities of her first location. The "new" shelter operated on 22 acres of the property, and the rest was left alone and serves to this day as a wildlife sanctuary.
In the 1960's, recognizing the scourge of pet overpopulation, Mrs. Barton converted the animal hospital at the shelter to a low-cost, subsidized spay/neuter center. The center was run by Dr. Robert P. Wagers, who also operated his own private practice, and was the veterinarian for the Baltimore Zoo. Dr. Wagers spent most of his time divided between these three locations, and kept a two-way radio in his car for emergencies. Our low cost Spay, Neuter and Vaccine Clinic is now named in his honor.
Share this article
Related Posts