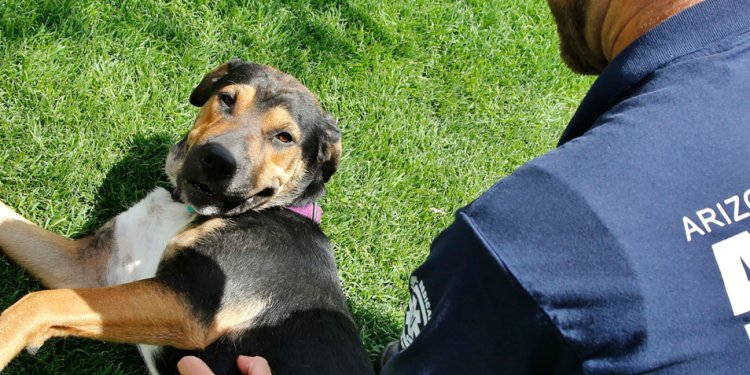 Rescue Humane Society
The Call for Mutual Rescue™ Stories resulted in some 400 submissions. The judges were inspired and moved, in many cases literally to tears, at these amazing accounts of how people rescued animals who later, in turn, rescued them. Thank you to all those who shared stories with us.
Four were selected for filming. These films will be released individually starting this fall.
What is Mutual Rescue™?
Mutual Rescue™ is an initiative that aims to change the way people see animal welfare. By sharing stories about connecting a person with an animal, Mutual Rescue™ hopes to demonstrate that when you support your local animal shelter, you're not just enhancing an animal's life—you're also transforming a person's life as well. The stories shared by everyday people through Mutual Rescue™ are testaments to the incredible impact that an animal and a person have on each other, and that "rescuing" isn't in just one direction.
Why Mutual Rescue™?
Connecting an animal with a person can have transformative and profound impact on both lives. And yet, many believe there are "people causes" and there are "animal causes." Of the $358 billion given to charities in the U.S. in 2014, less than 1% was given to animal-related causes. Mutual Rescue™ is an initiative to change the national conversation from "people OR animals" to "people AND animals." Because when you connect millions of animals with millions of people, you help build a foundation that enriches entire communities across the country.
Mutual Rescue™ also aims to inspire people to give to local animal shelters and rescue groups. Local humane societies are NOT chapters of the The Humane Society of the United States. And yet, according to a national survey, 71 percent of Americans believe The Humane Society of the United States is an "umbrella" organization for animal shelters. To save the lives of homeless animals in your own community, please support the animal shelters, rescue groups, and humane societies in your local area.
What is a Mutual Rescue™ story?
A true account of how you rescued an animal and, of special interest for this initiative, how that animal rescued you.
Who is eligible to submit stories?
Residents of the United States who are at least 13 years of age. Entrants under the age of 13 must have permission from their parents or legal guardians to participate.
Is this initiative only for animals from shelters?
Animals that were adopted from shelters or agencies, found, or rescued in other ways are eligible. The only animals excluded from this call for Mutual Rescue™ stories are those purchased from breeders or commercial operations such as "puppy mills."
How will the stories and films be used?
Stories will potentially be used in several forms. The selected stories will have a 5-minute video created and be part of a composite video used by to promote activities around "Changing the conversation from people OR animals to people AND animals" and to inspire people to support local animal shelters and rescue groups in their area. Stories not selected for filming may potentially be used in books, television, and social media channels to continue to spread the Mutual Rescue™ message.
Where can I watch a sample film?
You can watch the sample film Mutual Rescue™: Eric & Peety at www.mutualrescue.org.
What kinds of animals can be included?
Any species as long as the animal was rescued.
How do I submit a story?
We accept stories in written, video, and audio formats.
How long can my submission be?
Up to 1000 words.
What are the criteria to be selected as one of the selected stories?
The most important criteria are originality, narrative of the rescued animals background, and the impact that animal has had on your life, emotional appeal, and the potential to translate the story into a compelling short film. Stories will not be evaluated on the quality of writing, video, or audio recording submitted.
Share this article
Related Posts